What's the deal with influencer marketing? To describe it in Twitter terms, it's trending right now. It's a hot (relatively) new digital marketing method that a lot of businesses are using to amplify their reach on social media.
It's not always easy staying up-to-date on the latest marketing trends, but this article is meant to give marketers and small businesses a primer on the subject.
What is influencer marketing?
Remember when marketers turned to big celebrities for product endorsements? Well, influencer marketing is the digital version of that, except celebrities in this case are social media users or bloggers with big followings.
A business or a marketing company teams up with someone on social media to promote their business or product. The social media user or blogger is called an "influencer" because they have a particularly big audience in a specific niche and have the power to sway decision-making.
The influencer then collaborates with a company or marketing firm to promote a product on a specific social or online channel.
What does an example look like?
Birchbox, a company that ships a box of new beauty supplies to members monthly, teamed up with beauty influencer, Emily Schuman, on Instagram. Birchbox made an agreement with Schuman, who has 374,000 followers, to promote the products inside one of the kits the company was about to send to customers. Here's one of the posts: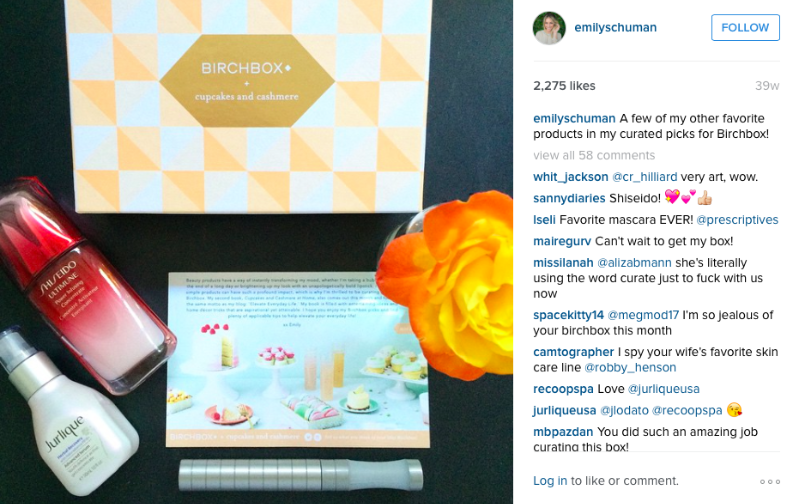 Schuman was asked to share five photos on Instagram with her followers. The partnership resulted in 18,000 likes and reached upwards of 550,000 customers. (You can get the full campaign details from a previous post on the IZEA blog.)
Why is it so popular?
Influencer marketing is turning a lot of heads because the advertising landscape is changing.
As of 2015, TV viewership is down 17 percent, which means Americans have cut four hours from their TV time. In turn, fewer companies are willing to spend money on commercials.
While traditional media is wavering in support, digital media is booming. Social media use is growing and companies like Netflix are thriving.
Given these changes, it's not surprising to see more companies embrace influencer marketing. In fact, marketers rated influencer marketing as the fastest growing online customer-acquisition method, beating out organic search and email.
Sixty percent of marketers plan to boost the budget for influencer marketing in the next 12 months.
Its popularity is born out of an advertising shift that now favors online options.
What should marketers know before launching an influencer campaign?
Influencers will expect compensation
Don't expect influencers to promote products for a few free samples. Research shows 68 percent of influencers work with brands because of competitive compensation.
Collaboration is preferred
Influencers prefer to collaborate on the images and messages rather than have it dictated to them. Of course, the company can say otherwise and decide to work with an influencer who meets their specific needs, but most influencers know their audience and want their opinions heard.
As with any marketing campaign, goals should be set. Whether the intent is to sell a product or generate brand awareness, make sure there is a plan in place to meet the overarching goal.
Influencer marketing is creating a buzz in the industry, and current statistics suggest it's a tactic that's here to stay.