The 6
th
Annual "State of Sponsored Social" Report shows Sponsored Social Posts as Effective as TV Commercials
November 3, 2015 – ORLANDO, FL – Sponsored Social continues to demonstrate its value to Marketers and influencers, based on data from our sixth annual "State of Sponsored Social" report, conducted in partnership with research firms Halverson Group and The Right Brain Consumer Consulting. The study found that 52 percent of companies now have a stand-alone Sponsored Social budget for their brand, and find Sponsored Social to be in the top three most effective marketing investments they make.
For the first time, the study also surveyed consumers to see how they feel about Sponsored Social, a sentiment that has never before been measured in the industry. Data shows that not only are social media users noticing more sponsored content in their social feeds – an estimated three sponsored messages per day – but consumers also perceive these sponsored messages to be equally or more effective than TV commercials.
"For the second year in a row, Marketers are seeing the value in leveraging Content Creators to reach their target audiences in authentic and original ways," said Ted Murphy, Chairman and CEO of IZEA. "We have created the Creator economy, a place where content has real power. Sponsored content has the ability to dramatically change the trajectory of conversations and sentiment for and about brands; we have the power to send products flying off of shelves."
Download the Reports: State of Sponsored Social Report | Consumer State of Sponsored Social Report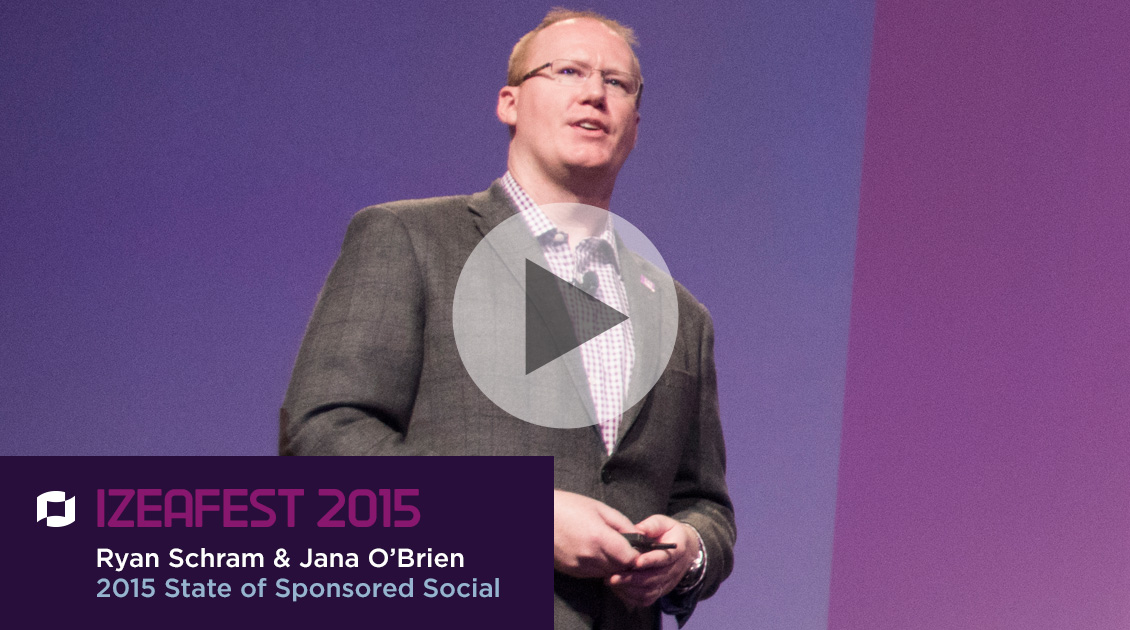 Marketer Sentiment
Experienced social media Marketers revealed a positive shift in Sponsored Social compared to the same period last year, and find it as widely effective as many traditional marketing approaches, including online display advertising, television commercials, and celebrity endorsements. In developing the report, we sought out the quantitative and qualitative opinions of both brand and agency professionals from a broad range of company sizes to reflect the diverse needs of the marketing industry. Findings include:
Twenty-five percent of companies have an organizational annual budget in excess of $500,000; five percent estimated their Sponsored Social annual budget is in excess of $5 million.

There is strong positive momentum behind Sponsored Social's marketing effectiveness. In fact, over half (54 percent) of Marketers feel better about Sponsored Social than they did a year ago.

Marketers recognize the time and effort required for Creators to produce long form content, which is why they are willing to pay 2.1x premium to sponsored video and blog posts versus other forms of sponsored social.

Most Sponsored Social Marketers compensate Creators with monetary payment versus free product or merchandise.
Creator Sentiment
The report reveals that Creators are more passionate about the brands they represent than ever before, and their Sponsored Social engagement has a ripple effect of value to Marketers:
Nearly all Creators continue to evangelize for brands beyond their paid projects: 85 percent say they are more likely to purchase from brands that sponsor them, 89 percent say they tell friends about brands that have sponsored them, and 83 percent share posts about their sponsors for free, outside of their contractual agreements.

Over two in five Content Creators spend zero to 39 hours per month producing content, as more are focused on short form "snack-able" media on platforms such as Twitter, Facebook and Instagram.

Sponsored Social is a source of income for nine out of 10 Creators, and say it accounts for 55 percent of their income.

Year-on-year, Sponsored Social continues to outpace Display Ads as an income source for Creator's by a 2 to 1 margin.
 Consumer Sentiment
A nationally-represented sample of qualified social media consumers reveals they are not only aware of Sponsored Social messages, but also find them highly effective:
Over one in three adult online users age 18-70 have seen a Sponsored Social message in the past year.

Overall, consumers estimate they see a total of 86 Sponsored Social messages per month across all platforms – or about three per day.

Overall, about two in five consumers are seeing more Sponsored Social messages than one year ago, with highest penetration sites driving the greatest increase.

Sponsored Social is perceived by social media users to be equally or more effective than TV commercials, and far exceeded banner and traditional print/radio ads in terms of effectiveness.

Consumers rate the credibility, trust/respect, and actual product use of Content Creators as the key drivers to Sponsored Social effectiveness; creator popularity, fame and audience size are far less important.
The report also reaffirms what past "State of Sponsored Social" reports revealed: more education about FTC guidelines on disclosure continues to be an industry need. Sixty-seven percent of Creators are aware of and understand the FTC guidelines, as opposed to only 8 percent of Marketers.
"Consumers today want to connect with brands in genuine ways on the platforms that they use the most – social media," said Jana O'Brien, Principal, The Right Brain Consumer Consulting. "The State of Sponsored Social study – with the addition of consumer sentiment this year – reveals findings that IZEA has been voicing for years: Sponsored Social is a highly effective marketing tool that benefits brands, Creators, and consumers, and will continue to play a vital role in marketing strategies for years to come."
The findings were initially presented at IZEAFest by IZEA COO Ryan Schram, and Jana O'Brien of The Right Brain. The full presentation can be viewed here.